Current screenshots
rrp: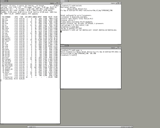 Press

=in depth stories
OS News:

Brave GNU World!
Apple SciTech
At the same time, we released Darwin/OSX.1 compatible packages, a bootable CD installer, and a net installer..
LWM.net: Nice story!
NewsForge:
MacVillage.net
O'Reilly
ZDNet
Daniel Drew Turner wrote about the port and package systems. There are some interesting enterprise v. academia perspectives in this article, but they miss the point that we are trying to free Apple users. Also, our package manager solves all of the packaging problems that were mentioned in the article, which was not clear at all. The upshot from our perspective is that enterprise should be very excited about the GNU-Darwin packaging system.
Mac Slash has covered the progress of the Distribution.

Earth Hack 4777
Dr. Love wrote an editorial for a Mormon publication, in which he explains why he gets out of bed in the morning.